I'll play bassoon in the Wrong Ensemble. I'll play in 3 pieces composed by visual artists.

Wrong Ensemble
12th December 2008
Doors open at 19:00
Performance commences at 19:30
FREE

IMT
Unit2/210, Cambridge Heath Road,
London, E2 9NQ UK
How to get there??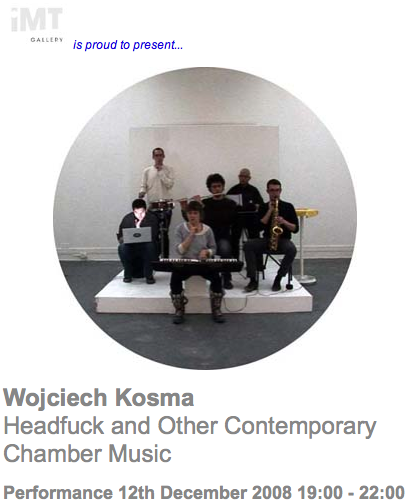 IMT is proud to present an evening of innovative contemporary music performed by the Wrong Ensemble, an experimental music group established in 2008 by Polish visual artist and composer Wojciech Kosma. Wrong Ensemble is dedicated to performing musical and music theatre works by non-musical artists.
The performance will include Kosma's recent compositions, 'Headfuck' and 'Blowjob', a composition by Berlin based artist Oliver Laric, and an appearance by Polish new-media artist Jan Simon. More info
Doors open at 19:00. Performance commences at 19:30. Places are free however space is limited. To reserve a place please contact IMT.
One piece of the show here!
(video)by Oliver Laric