automne 2004
pour foule jouant des ballounes
You would like become a balloons payer? Yes! It's possible! Just follow instructions, and have fun!


Le laboratoire est un endroit pour faire des expériences. J'ai voulu expérimenter à quel point nous pouvions utiliser le public comme musicien, comme intervenant sur le son. Étant en train de travailler sur une pièce pour violoncelle, percussions et ballounes, je me suis demandé si le public, ou une partie du public, pouvait devenir, à un certain moment, un joueur de balloune. Pour cette expérience, chacun des participants avait une balloune. Pendant un certain temps, un vidéo expliquant quelques techniques de jeu de la balloune était projeté sur un écran.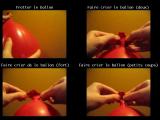 Par la suite, une partition simple y était projetée. La partition comprenait quatre parties: les ballounes rouges, jaunes, vertes et bleues. Le participant devait suivre la partie correspondant à la couleur de sa balloune. Tout d'abord, les joueurs de ballounes étaient disposés dans l'espace, soit à l'avant droite, l'avant gauche, l'arrière droite et l'arrière gauche de la salle.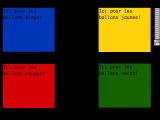 Ensuite, des indications simples (la partition) défilaient sur l'écran. Les gens ont très bien participé et ont suivi avec rigueur la partition. Je crois que la simplicité de la partition a permis cette rigueur, et de créer de grandes masses criantes et des effets visuels colorés!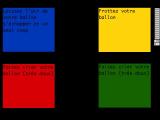 Créée le 2 décembre 2004, lors d'un Laboratoire organisé par le CeCo (Cercle de compositeurs de l'Université de Montréal) à la salle Serge-Garant de l'Université de Montréal, et rejoué en septembre 2005 au concert Gala du Ceco.