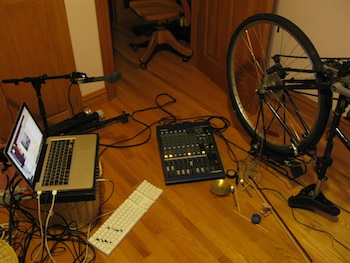 I have been invited to play some bicycle during this unique event!

Happy Skyping!


Friday
October 1 2010
8pm


Happy Dog Gallery
1542 N. Milwaukee Ave., 2nd floor
Chicago, IL
60622
You are invited to attend "Bicycles and the Arts," a multidisciplinary event that happens during the Fifth Annual Chicago Calling Arts Festivaland Chicago Artists Month. "Bicycles and the Arts" creatively explores connections between these two vital elements of culture and society -- Wheels on the Ground and in the Sky, a group exhibition with paintings, sculptures, and videos -- models of multi-functional bike racks by Andrew DelaRosa and John Bambino, photographs by Janina Ciezadlo; a painting by Alpha Bruton; a bike-book sculpture by Regin Ingloria; a sculpture by Matt Weber; Pigeon-toed About Homage by Catie Olson, a sculpture with kinetic sound and video projection which is inspired by Jean Tinguely's Homage to New York; a video of Rob Frye's recent FLUX Bike ride in Los Angeles; and Bikes Make the World Go 'Round, an interactive kinetic sculpture presented by Working Bikes Cooperative; John Greenfield reads from his new book Bars Across America: Drinking and Biking from Coast to Coast; Chicago Underground Library presents a Pop Up Library; BikeBand performs - Derek Repsch (electronics and amplified bicycle), Andrew Royal (violin), Jon Godston (soprano saxophone), Robin Boudreaux (tenor saxophone), Dan Godston (trumpet), Jayve Montgomery (reeds, percussion, electronics), Alex Wing (guitar), and Jimmy Bennington (drums) - including a telematic performance with an ensemble in Detroit, the Spokesmen Bike-A-Stra (Tucson), and Sonia Paço-Rocchia (Quebec), as well as an homage to Frank Zappa's 1963 appearance on The Steve Allen Show (when Zappa taught Allen how to play a bicycle and the Steve Allen Orchestra performed with the musical bicycles); conversations with bicycle groups in other communities across the U.S. via skype, including Spearfish Bike Cooperative (Spearfish, SD), BICAS (Tucson, AZ), and the New Orleans Community Bike Project; images and sounds of projects by U.S. and international artists and organizations are presented -- sounds by Emeka Ogboh (Lagos, Nigeria) and SoundFjord, London, and images from a recent exhibition about bicycle culture at the Museum of Copenhagen, and those by Ultra Grøn (Copenhagen) and Cay Brøndum (Copenhagen). "Bicycles and the Arts" involves partnerships with the Active Transportation Alliance, Copenhagen Cyclery, Working Bikes Cooperative, and the League of Illinois Bicyclists. We would also like to thank the Copenhagen Center for Traffic for their help, and Lulu B. for providing beverages.
$7 suggested donation, all ages and open to the public.