printemps 2004
piano, soprano, violoncelle, percussions, bande, mise en scène, traitement en temps réel, cornemuse et auto télécommandée
Un piano discute avec un pianiste. Le piano veut savoir pourquoi il doit se plier aux désirs du pianiste. Le pianiste doit alors lui prouver, en parlant piano, qu'il a certains atouts majeurs: les cinqs sens. Cinq improvisations libres sur la vue, l'odorat, le goût, le toucher et l'ouïe.
Sometime we need something to give improvisation ideas. This piece have a part of exploration to try other inspiration sources.


Jean-Claude Bernier, piano; Marianne Lambert, soprano; Mathieu Voghel Robert, violoncelle; Stéphanie Cyr, percussions; Brent Shaus, cornemuse; Sylvie-Anne Ménard, auto télécommandée; Fátima Rocchia, costumes
Pour la seconde version (concert du CECO, printemps 2005), Jean-Dominique Felx à la cornemuse
Créée en mai 2004, lors d'un Concert de classe des élèves de Michel Smith, à la salle Serge-Garant de l'Université de Montréal. Jouée le 24 mars 2005, lors d'un Concert du Ceco (Cercle des compositeurs de l'Université de Montréal) à la salle Claude-Champagne de l'Université de Montréal.

photo, concert du Ceco, mars 2005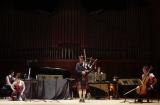 (audio) (soprano solo) (mai 2004)
(audio) (introduction) (mai 2004)
(audio) (introduction) (mai 2004)
(audio) (mai 2004)