2001 et retouché par la suite
cartes de métro
pour sept musiciens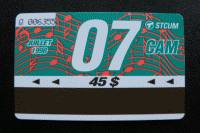 Chaque jour, nous sommes entourés d'objets que nous trouvons coutumiers et sans importance. Mais, quelques fois, ces mêmes objets, ordinaires et plates la veille, se révèlent être des trésors sonores aujourd'hui. C'est le cas, pour moi, de ces insignifiantes cartes de métro et d'autobus que nous payons si cher chaque mois pour nous déplacer en charmant transport en commun, que nous apprécions tant... (là-dessus je n'ajouterai aucun commentaire). Après cet usage journalier de ce bout de plastique, le mois fini, chacun de nous avions l'habitude de nous en débarrasser. Mais, c'était se débarrasser d'un trésor sonore! Ces quelques minutes sont pour vous faire découvrir ce trésor.
Merci à tous ceux, qui, à la fin de chaque mois, ont pensé à garder précieusement leur CAM pour cette pièce.
Merci aussi à tous les musiciens qui ont eu la patience de devenir cartistes.

Seven players, seven parts, seven leaders, seven timbres, seven microphones, seven hundred bus cards, quadraphonic speakers, you feel like you are in the move, at the center of the bus cards music.


Créée en mai 2001, à la salle Adrienne-Milottelors du concert de fin session du secteur de composition du Cégep de St-Laurent.
Re-jouée ensuite à plusieurs occasions.
CAM a reçu une mention spéciale lors du Cégep en spectacle de 2001-2002.
Cartistes pour cette version (concert du CECO, février 2003): Jean-Claude Bernier, Francis Beaulieu, Marie-Pierre Brassard, Gabriel Vinuela Pelletier, Mélanie Cloutier, Olivier Girouard et moi-même