automne 2004
laboratoire du 2 décembre 2004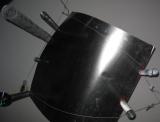 Suite à Sans escalier, le slinky persistant à m'envahir, j'ai donc poussé la recherche un peu plus loin. Cette installation regroupe une vingtaine d'instruments tous faits à partir du slinky. Les instruments ont différents types de résonateurs, ce qui leur donne des timbres relativement différents. Les instruments étaient disposés dans la salle, soit pendus sur une corde à linge, soit sur un porte-manteaux à roulettes. Il y avait aussi une grande feuille de tôle au plafond, avec des slinkys accrochés dessus et deux feuilles de tôles verticales, avec un très long slinky étiré entre les deux. Le public était invité à décrocher les instruments et à jouer du slinky. Personnellement, j'ai beaucoup aimé cette interaction directe entre le public et la production du son. Je crois que cette installation pourrait être présentée dans un tout autre cadre et serait tout autant appréciée. Je crois que des gens qui ne s'intéressent pas, au premier abord, à la musique électroacoustique pourraient trouver amusant de jouer avec les sons de cette façon. Après avoir traversé une installation du genre, où une personne peut elle-même directement influencer et jouer avec les sons, redevenant un spectateur, elle ne peut que mieux apprécier le travail d'un compositeur (électroacoustique, par exemple), qui a travaillé les timbres et les sons.
You can touch slinkys to feel the slinky sound. You will like that, I'm sure!


Présentée le 2 décembre 2004, lors d'un Laboratoire organisé par le CeCo (Cercle de compositeurs de l'Université de Montréal) à la salle Serge-Garant de l'Université de Montréal.